Happy May, 2022!
Summer Concerts Sunday, June 12
We will be having our first in-person Summer Concerts since 2019!
When: Sunday, June 12th between 12 and 2pm
Where: Greely Community Centre.
We are planning 2 shows of 45 minutes each to showcase our students and all the fruits of their labours.
Mark in on the calendar and stay tuned for details.
Summer Lessons
Our regular school year finishes Friday, June 24th.
Summer lessons start Tuesday, July 5th and run on a limited schedule on Tuesdays, Wednesdays and Thursdays only. Please email regarding your summer plans.
---
Happy Halloween!
We'll have some Halloween treats in the waiting area this Halloween week. Students are free to take a few pieces each after their lessons :)
Isaac performed at Minotaure in Gatineau. Check out a video clip on our youtube page for a great performance: https://youtu.be/p0sjjfUp0oY
Nice work Isaac!
Busy Parking lot:
We ask for patience and caution during busy times in the parking area. Preferably do not park on the paved driveway or gravel drive-through in order to keep it clear for entering and exiting cars. If we all park facing the hedges then there should remain enough space for all to park without congestion issues.
Student special mention:
All students deserve mention for their hard work and commitment!
We would like to acknowledge these students especially for their noticeable efforts and progress over the last few months:
Evangeline for being so enthusiastic and bringing so much energy to her lessons.
Kayahbell with her wonderful sense of rhythm and good ear.
Anna McLaren for her positive approach to all her playing. It's a pleasure to witness her progress.
Spencer who's hard work is really paying off. Great playing lately!
Daniel B for his dedication and unwavering enthusiasm for all guitar styles.
Maxim for picking up drums quickly and doing some good practicing every week.
---
We will be opening up for in-person lessons in September. In preparation for the new school year we will conclude summer lessons August 19th and resume Tuesday, September 7th .
In order to secure your ideal lesson time, we ask that you please respond at your earliest convenience to let us know if you want a spot reserved, your day/time availability/restrictions and whether you want in-person or online.
The deadline for lesson time requests is Monday, August 24th after which time we may not be able to guarantee your preferred choices.
---
The 2021 Riverside Music Summer Concerts Online are here!
Congratulations to all the great performers! From Bach to Rock, piano, guitar and drums, it's all there.
It's no small feat to perform in front of a camera and we're super impressed and grateful for all the fantastic submissions.
Let's show support to our students by watching and sharing these videos in appreciation of all the hard work and practice that went in to them.
A big THANK YOU to all participants! Have a great summer everyone.
---
Due to uncertainty about the lock down extension and the fact that we would have only 3 weeks remaining in June for the regular school year, we will stay the course with our online only schedules until July.
We expect to be able to resume in-person as of July, restrictions permitting, in time for our Summer lessons.
Summer lessons are offered throughout July and August on a "soft schedule" starting July 5th. Summer lessons are scheduled Tuesday through Thursday only and this would be a separate schedule from the regular school year. (We are closed the last week of August in preparation of the new school year).
If you are interested in Summer Lessons, in-person or online, please let us know as soon as possible so we may plan accordingly.
We expect to go back to normal in September, 2021. In-person time slots will be reserved and prioritized as they were in back in March.
---
May 2021 Update and News!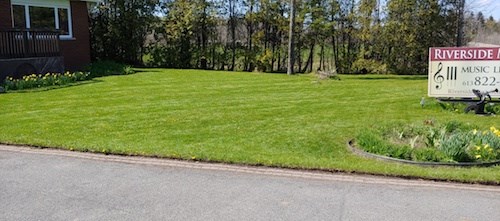 We will be continuing online for the month of May.
Hopefully, if all goes well, we can resume in-person after Victoria Day, depending how things are trending as we approach that date.
We extend a warm welcome to our new students. We are grateful to be able to teach you, if only virtually!
A special mention goes out to some of our most improved students
Here's a list of most improved students whose regular practice is making a difference:
Ben, whose ability to read piano music is his super power!
Isabella, who just started recently and is playing pop piano songs amazingly!
Sawyer, whose talent is really starting to show!
Spencer, for whom it's all starting to pay off!
Valentin, who is preparing for arts high school on piano and guitar. Wonderful progress in a short time!
Asia, who has a beautiful singing voice as she accompanies herself on Ukulele. So talented!
Erin, you sound like a real acoustic guitar player now!
Dexter, whose violin playing has improved in leaps and has started Level 1 RCM!
Lisa, who has really taken off lately!
Sarah, who is just flying through her assignments!
Axel, who was invited by both York and McMaster University liberal arts and music programs!
Cameron, who just started on drums and is counting out notation and learning difficult rhythms already!
Congratulations to all on the special mention list!
Best wishes to our Royal Conservatory of Music examination candidates in June: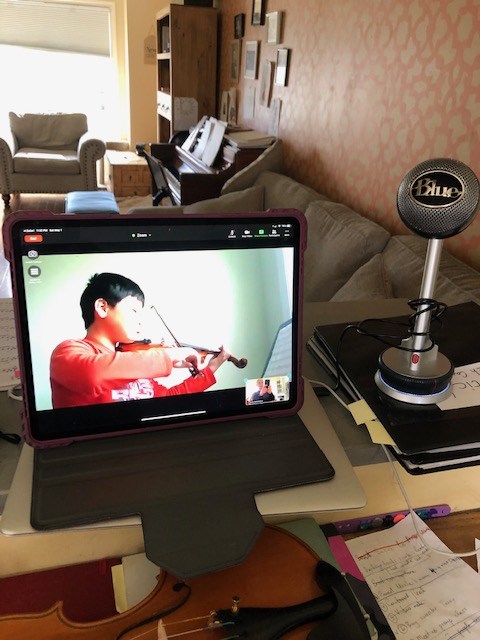 -Jeff, preparing Level 3 violin
-Nathan, getting ready for Level 7 piano
-Andrew, preparing Level 8 piano
Getting Ready for 2021 Summer Concerts
Whether virtually or in-person, we would like to start thinking about polishing up your best pieces to show off at the end of June. We always look forward to seeing and hearing the results of all your hard work!
Anna Dalvi's practice advice:
"Don't be afraid to make mistakes when playing. The only way to make NO mistakes is to not play at all, and where's the fun in that?"
Spencer's Cat "Sonic" visits Online Lesson:

---


Update for February, 2021
We have resumed in-person lessons staring the week of Monday February 22nd.
We continue to offer online lessons as we resume in-person.
March break has been changed to April 12th, 2021
---
December, 2020
As you are probably aware, we are facing a province wide shutdown until January 25th.
Unfortunately the music school will have to remain closed for in-person lessons during this period.
As it stands we expect to resume our regular in-person schedule on Monday, January 25th.
For those who have been taking lessons in-person and would like to switch to online for the interim, we will be available at the regular scheduled lesson time.
For current online students the schedule will remain the same and will resume this Monday, January 4th.
Let us know as soon as possible if you would like to switch to online lessons for the first 3 weeks of January and we will reserve your time and send detailed Zoom connection instructions.
Enjoy our Riverside Music 2020 Holiday Cheer Concerts here: https://youtube.com/playlist?list=PLcGCL-U829Pwg1WyW_J3-UXuTjsVjfBh3
---
October 20, 2020
As we have entered a modified stage 2, I would like to remind everyone that we must be extra diligent with our protocols.
Moving forward we ask that everyone continues to wear masks, sanitize hands upon entrance and, most importantly, do not come for in-person lessons if you suspect you may have been exposed.
If you or your child are feeling unwell, have been asked to isolate by O.P.H., have been outside your bubble or have been informed of an outbreak at school, please do not risk a possible spread. It would only take one instance for us to have to close the doors to all.
We will credit any missed lessons, even on short notice, if you feel there maybe the slightest risk to others.
Thank you for your cooperation and understanding. I'm confident if we follow the guidelines we will be able to continue safely along our path for the foreseeable future.
---
NEW: Group Fiddle Classes!
---
August 5, 2020
We are teaching throughout August online. The school will be closed starting Monday, August 24th for 2 weeks as we prepare for our "regular" school year starting Tuesday, September 8.
Classes will run on a limited, spaced out basis with only 2 teachers in house at a time.
Masks must be worn by teachers and students/parents.
We ask that students be accompanied by only one parent at a time.
Surfaces and instruments will be cleaned between classes.
Waiting room seating will be spaced out and limited to 5 people.
Online lessons will remain an option for those not comfortable with meeting in-person.
---
May 25, 2020
We will be continuing to teach online in June.
We enjoyed a beautiful May and as we approach June we will stay the course with online lessons. We will hold your virtual lesson time in June unless we hear differently.
Just a reminder that all Zoom users will need to update to Zoom 5 by May 31st for things to continue uninterrupted.
Typically this time of year we would be gearing up for recitals and summer lessons. As there is no precedent, we are hoping to keep things similar in the online environment.
Recitals
Students are invited to prepare a piece of music for a video recital to be compiled around the 3rd week of June. This is not mandatory by any means but it may be a useful way to encourage practice and have a goal to prepare a piece at an optimal level.
Once ready, you can record a short video of the performance which can be uploaded to a folder which we will make available. Performances will be posted on our youtube channel for all to enjoy.
If you are interested you can discuss it with your teacher.
---
Summer Lessons
In normal years we have a separate summer schedule built around holidays since many take a break during these months.
Considering the circumstances, this year we expect to continue the same online schedule throughout July and August. We can be flexible, however, and schedule around your holidays, if necessary.
There will be a break June 29th to July 4th and in the last 2 weeks of August.
Let me know by email if you plan discontinuing over the summer.
September is currently unclear. We may need to expect some hybrid version of online and live visits. As we approach September we will monitor the conditions and update accordingly.
---
April 27 update:
Continuing lessons online in May
We will continue to teach lessons online for the month of May.
As the month of April comes to a close we have gained significant experience with online lessons and it has become the new normal for the time being.
Although it has been an adjustment it's getting better all the time and we'd like to thank all students for their participation and cooperation.
We have learned ways to improve the experience and if you have any questions about what you can do to improve things on your end please don't hesitate to contact me by email anytime at riverside@geyermusic.com
---