Steve Geyer, Owner
Steve Geyer has 30 years experience in the music business as a musician, teacher and music school owner. Steve has managed music schools, created group programs and is a pioneer in bridging his love of all styles from Classical to Rock in his unique and popular teaching approach.
It's Steve's passion to create and maintain a quality music school where fun and serious results can come together. When he's not managing the music school you'll find Steve teaching piano, guitar, drums, theory and digital audio recording and production at Riverside Music.
Isaac Isenor - Guitars, Piano, Drums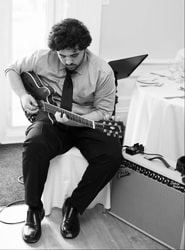 Isaac Isenor is a guitarist, composer, performer and teacher. Isaac has a passion for Jazz, Rock, Classical, and experimental music with focus on composition and improvisation. In 2018, Isaac received a Bachelor of Music degree from Carleton University with High Distinction and a Senate Medal alongside his Grade 9 RCM Piano performance certificate. Isaac performs original guitar-driven Jazz fusion with Isaac Isenor Group and The Dandy Lions. He is also the guitarist for Bytowne Big Band. Isaac offers lessons for guitar, bass, piano, ukulele, drums, and music theory and composition.